Gigs
DARKROOM 2022 – TICKET RESCHEDULING INFO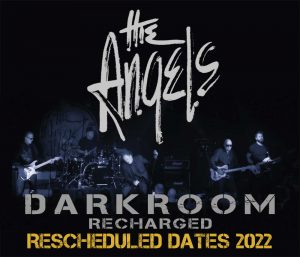 In 2021 Mr Damage presents The Angels on two new tours…
Greatest Hits & Symphony Of Angels
For those who purchased tickets to a Darkroom Recharged 2021 show, there are some venues where those tickets are still valid for the rescheduled Darkroom Recharged 2022 show in the same venue next year.
For other dates there may be no replacement show and so you can simply request a refund from your place of purchase.
If you are unable to attend one of the rescheduled Darkroom 2022 shows in your venue please also request a refund by contacting your place of purchase.
The booking agency has worked very hard to deal with this situation on behalf of the band however, due to third party constraints, it is not possible to transfer tickets for Darkroom show to be used at the new Greatest Hits shows.
Please find here an exhaustive list of the original dates and the rescheduling result.
We appreciate your patience over that difficult time and look forward to seeing you at a gig soon!
DARKROOM RECHARGED
Fri 30th April 2021
BRIDGE HOTEL
…becomes…
Fri 13th May 2022
BRIDGE HOTEL
…which now becomes…
Fri 16th Dec 2022
BRIDGE HOTEL
You Can Use Your Existing Ticket For That Show
DARKROOM RECHARGED
Sat 1st May 2021
BRIDGE HOTEL
…becomes…
Sat 14th May 2022
BRIDGE HOTEL
…which now becomes…
Sat 17th Dec 2022
BRIDGE HOTEL
You Can Use Your Existing Ticket For That Show