Gigs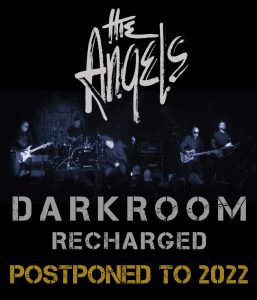 DARKROOM TOUR POSTPONED
The Angels regret to announce that the Darkroom Tour, scheduled for this year, 2021, will now be postponed until next year.
Unfortunately, the on-again-off-again Covid 19 restrictions that can vary from state to state have been wreaking havoc with various gigs going ahead on the advertised dates. It's difficult to ensure that a show will go ahead or be confident that all band members can get from where they live to the location of various shows.
The band are disappointed to make this announcement but will endeavour to keep our fans informed as soon as possible about a set of dates that will allow them to present the Darkroom Tour in a manner that is in keeping with their commitment to the traditions of Australian live touring.